---
DV-66 Player
**being replaced by the DV68**

---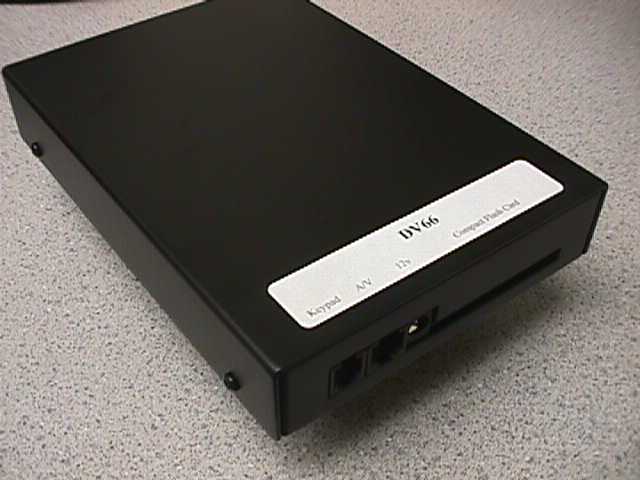 Click on picture above for a closer view



The Technovision® DV66 is an industrial MPEG2 & 4, MP3, VOB and DIVX playback device, capable of either continuous video or interactive playback through user-selectable tracks. The DV66 was primarily designed for kiosk applications, allowing for direct access to individual files of standard definition video (or MP3 audio) through various pushbuttons and a TV66K. The DV66 can also be triggered by motion sensors, computers, or RS232TTL multimedia controllers like the TV66K or KPC2 . Multiple players can also be synchronized using SYNCHT1 firmware.



Power Requirements:
120/220VAC, 60/50 Hz
(12VDC, universal power supply included)
Current: 600mA
Net Weight:
1.5 lbs.
Operating Temperature/Humidity:
-30F to 85F (non-condensing).
Dimensions (HxWxD)
1.8" (with feet) x 4.5" x 7.2"
35mm (with feet) x 114mm x 162mm


DV66 Quick Reference Guide
RS232TTL command list
MPEG2 encoding guide
MPEG4 encoding guide
........additional manuals


ALL DIGITAL - no moving parts.
DVD quality (SD) playback.
Supports MPEG1&2 (.mpg), MPEG4 (.mp4), .jpg, .mp3 and DVD (.vob) playback.
Interactive modes (MENU/REPEAT).
Built-in RS232TTL port (RJ11-4P4C)
RJ12 (6P6C) to 3xRCA A/V cable.
VGA (640x480) Output.
S-VIDEO Output.
Stereo LINE LEVEL Audio output.
Instant track Access.
Seamless Looping playback.
Compact Flash based (FAT16/32).
Direct access to 99 tracks in MENU or REPEAT mode.
RoHS compatible.
Hardware Options:
TV66K ...25-Button/Keypad Controller
1520-0010

...Replacement A/V cable
DV66RS232 ...RS232C to DV66 control cable
CF-4G ...4GB HighSpeed CF cards
CF-8G ...8GB HighSpeed CF cards